Prof. Georgi Spassov – flute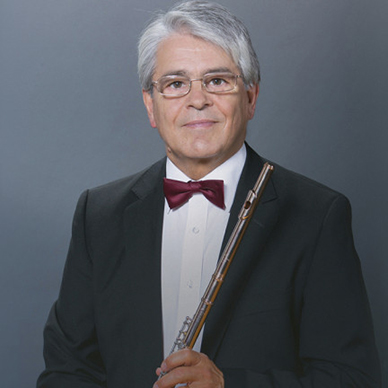 Prof. Georgi Spassov – flute
Georgi Spassov is one of the most outstanding contemporary Bulgarian instrumentalists distinguished for his great talent.
After receiving his Master's Degree at the Bulgarian National Music Academy he specialized in Zaltzburg with some eminent muzitions like K.H. Zoller and Aurel Nikole and later with J. P. Rampal and Alain Marion at the National Conservatoire in Paris, and  the Summer Academy in Nice.
For 30 years Georgi Spassov is the principal flute of the Sofia Philharmonic Orchestra and Professor at the Bulgarian State Conservatoire. Many significant talents with international career are among his student. He has been the first and only Bulgarian ever invited to take part in First and Second Symposia of the flutists from all over the world, where his creative and pedagogic achievements were highly appreciated. He is an honored jury of the most prestigious National flute competitions as well as of many International ones.
He has assisted famous Professor Andras Adorjan during the master classes at the Varna Summer Music Festival and the March Music Days Music Festival in 1990 and 1992 and every year he has lead numerous master classes in Bulgaria, Cuba, Japan, Sought Korea and others.
Laureate from many National and International Competitions his repertoire ranges over a large variety of compositions from all styles and epochs.
As instrumentalist he has successful toured a number of countries in the world.
Many of his recordings for the Bulgarian National Radio and for the National TV are in the Golden Fond collection. He has also many recordings for the French National Radio and Television, for Radio Budapest and many others.
His high professional achievements have been honored with the Golden Lira Prize of the National Music and Dance Artists Association.